Corporate / Small business
Too many files clogging your network printer ?
Need an overflow Printer that produces quickly ?
If your Printing network is bogged down with too many users
or that annoying dude in the corner has sent large files again,
clogging the system for hours . . Campus Color can help
You'll find our Printing services refreshingly fast and convenient. Our Print services are
able to cater for both Corporate and Small business. Simply upload your files using the
upload tab and we'll have your job Printed in no time.
Our very fast Print processing systems are designed to handle large files very quickly and
our Printers produce A4 colour very, very fast . . in excess of one per second.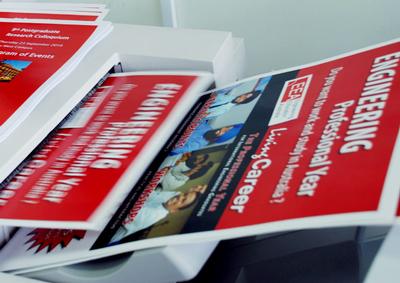 Not only is our Print system fast, it's clever too, with 100's of file
enhancements available to Print your images.
It even counts Colour Prints vs Black & White Print volum
Remember! Posters to match your brochures
Large full Colour Posters • Printed in a 60 seconds